A key role in decarbonising Europe's economy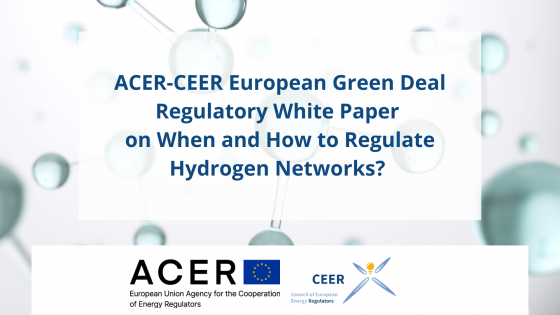 ​​​With the EU goal of becoming a carbon neutral continent by 2050, hydrogen is set to play a key role in decarbonising Europe's economy. 

To realise the European Green Deal's ambitions for hydrogen, the right regulatory framework must be created to facilitate a hydrogen economy in a cost-effective way.
European energy regulators (ACER and CEER) have published a set of recommendations on when and how to regulate pure hydrogen networks. The need and scope of hydrogen network regulation will depend on its structure and evolution.
This paper is the first in our new series of ACER-CEER European Green Deal Regulatory White Papers. This hydrogen paper examines:
The circumstances under which regulating hydrogen networks is needed;

How to treat existing hydrogen network infrastructure;

How to address regulatory challenges related to the repurposing of gas infrastructure for dedicated hydrogen transport.
The aim is to deepen understanding on the regulatory aspects of Green Deal issues and to assist the European Commission in assessing various options as part of the preparations for legislation on hydrogen and energy system integration.
What do regulators recommend on regulating hydrogen in this ACER/CEER Hydrogen White Paper?
ACER-CEER consider that that when establishing the rules for the future hydrogen market, law-makers and regulators can benefit from the well-established European regulatory framework governing the natural gas and electricity markets. Furthermore, a dynamic regulatory approach might be inspired by the model of the existing EU regulation of the telecommunications sector.
ACER and CEER recommend consideration of the following 6 issues when regulating hydrogen:
Consider a gradual approach to the regulation of hydrogen networks in line with market and infrastructure development for hydrogen

Apply a dynamic regulatory approach based on periodic market analysis and monitoring

Clarify the regulatory principles from the outset

Foresee temporary regulatory exemptions for existing and new hydrogen infrastructure developed as business-to-business networks

Value the benefits of repurposing gas assets for hydrogen transport

Apply cost-reflectivity to avoid cross-subsidisation between the gas and hydrogen networks in case of repurposing gas assets​

Pure hydrogen network regulation should be introduced gradually, in line with the hydrogen market development. Periodic market monitoring at national level, based on EU-agreed principles, will identify if a pure hydrogen network is likely to become an essential facility: should that be the case, basic regulatory principles will have to apply.
ACER and CEER are open to temporary regulatory exemptions, similarly to that allowed under the existing gas and electricity regulatory framework. Exemptions will allow business-to-business networks to operate without unnecessary burdens. In case the specific market circumstances evolve and regulatory exemptions would not ensure a healthy competitive environment, they should be revoked.
Re-use of existing assets should be explored prior to any decommissioning. Existing gas pipelines may be repurposed to become pure hydrogen pipelines. The decision on repurposing shall be based on a case-by-case assessment, relying on cost-benefit analyses (CBAs). The CBAs will have to incorporate inputs from both the gas and hydrogen sectors and take into account societal aspects. In terms of planning the repurposing, candidate pipelines should be identified within the National Development Plans (NDPs). In case of repurposing of existing infrastructure, ACER and CEER underline the important principle of cost-reflectivity: users of each network (natural gas or hydrogen) will only pay for the network they use.  For cost-reflectivity and to avoid cross-subsidisation when repurposed, the transfer of gas assets should be valued, as a reference, based on their residual regulated asset value. 
Background
This ACER-CEER "When and How to Regulate Hydrogen Networks?" White Paper aims to deepen the understanding on regulating hydrogen and to assist the European Commission in assessing various options as part of the preparation for a legislation on hydrogen and energy system integration. In this context, ACER commissioned papers, written White Papers (jointly with CEER) and has been organising / participating in a series of events to spread its main findings and regulatory recommendations. ​

Find out more how hydrogen can support the decarbonisation of the gas sector.
Want to more about hydrogen?
​

ACER, in partnership with the Energy Community, is hosting a webinar on hydrogen on Thursday 25 February. For more information and to register, see here​.
Also published today on the ACER website are two (Kantor Management Consultants S.A.) papers commissioned by ACER; one on the possible regulation of hydrogen networks and the other paper on the possible regulation of methane emissions abatement​.​