Who do we cooperate with?
​​ACER works closely with various authorities and institutions to ensure proper implementation of REMIT. In particular, ACER strives to enable a coordinated and consistent approach to the execution of REMIT tasks, as well as the effective investigation of the wholesale energy markets.
Who do we cooperate with?
national regulatory authorities (NRAs) 

reporting parties 

field experts through the REMIT Expert Group 

academia and institutions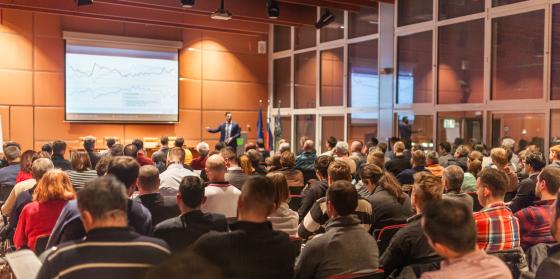 How do we cooperate?
​Events
To further enhance interaction and exchange of ideas, ACER has been holding its annual Energy Market Integrity and Transparency (EMIT) Forum each September/October in Ljubljana since 2017. The event is attended by policy experts from the Member States, energy traders and consumers, transmission system organisations and NRAs.
ACER periodically meets with energy exchange surveillance technical experts and financial authorities via the Market Surveillance Forum (MSF) and the Energy Trading Enforcement Forum (ETEF).
ACER also regularly cooperates with the European​ Securities and Markets Authority (ESMA), the competent financial market authorities of the Member States and, where appropriate, national competition authorities. ACER also engages in international cooperation.
Memorandums of Understanding (MoUs)
The scope and practical terms of implementing the cooperation foreseen in REMIT is defined in a Memorandum of Understanding (MoU).
ACER has signed MoUs with NRAs, ESMA, organised market places (OMPs), and the US Federal Energy Regulatory Commission (FERC).
Whilst the MoU with the NRAs is a multilateral one, the MoUs with organised market places are bilateral. This allows organised market places to set out the content and procedures for the cooperation on more specific issues related to market monitoring under REMIT. ACER had signed MoUs with eight organised market places across the European Union.  ​
↓ Find out more about ACER's Cooperation with: