ACER calls for gas system operators to tackle gas transmission bottlenecks
What is the report about?
Image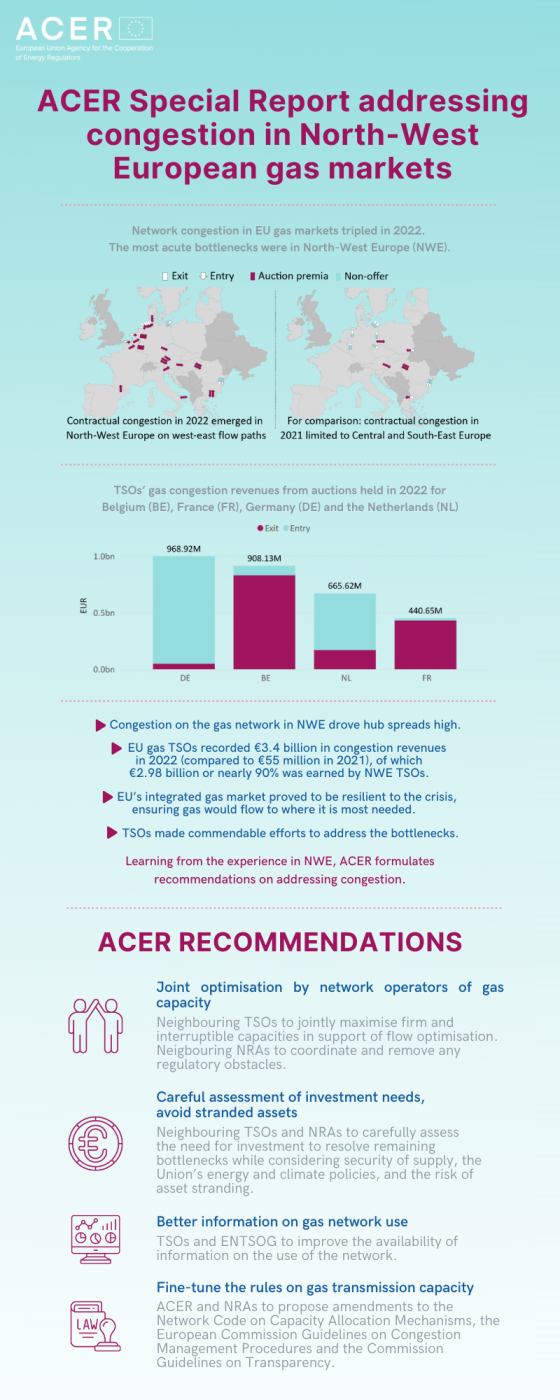 The European gas system was gas primarily designed for transportation of Russian supplies from east to west. Following the Russian invasion of Ukraine, Liquified Natural Gas (LNG) and increased pipeline supplies began to enter Europe from the west, which caused bottlenecks in North-West Europe (NWE).
Addressing congestion in North-West Europe
In addition to its annual monitoring of congestion, ACER publishes today its Special Report on addressing congestion in North-West European gas markets. The report examines:
How acute bottlenecks emerged in Belgium, France, Germany and the Netherlands; 

How the respective Transmission System Operators (TSOs) and National Regulatory Authorities (NRAs) addressed the bottlenecks; 

and

The lessons learnt.
What did ACER find?
TSOs benefitted from significantly higher congestion revenues in 2022 (compared to 2021). EU TSOs recorded €3.4 billion in gas congestion revenues in 2022 (of which €2.98

billion

or nearly 90% was earned by NWE TSOs); for comparison, EU's total gas congestion revenues in 2021 were €55 million.

The EU's integrated gas market proved to be resilient to the crisis, facilitating the reconfiguration of supply and demand, and ensuring gas would flow to where it was most needed;

TSOs made commendable efforts to address the acute physical bottlenecks from Belgium to the Netherlands, from Belgium to Germany and from France to Germany by increasing the gas capacity (kWh/h) available;

But, while there was coordination among neighbouring TSOs, such coordination and information availability weakened while striving to maximise the availability of firm and interruptible capacities on both sides of the borders under difficult circumstances. This resulted in mismatched transmission capacities. In addition, the availability of information on the optimised network could be improved. Hence, a key learning is the need for continuous coordination and information sharing.
During an energy crisis, short-term mitigating actions are important:
No-regret measures include:
Addressing the most acute gas bottlenecks (in this instance, NWE) to improve market efficiency in the short term;

Optimising existing infrastructure to accommodate new gas supply routes.
ACER recommends:
Joint optimisation by network operators of gas capacity;

Better information on gas network use;

Careful assessment of investment needs to avoid stranded assets;

Fine-tune the rules on gas transmission capacity.
Access the ACER Special Report on addressing congestion in North-West European gas markets.
Access reports' infographic.