9.11.2021
Energy Retail Markets Monitoring in 2020: Smart meter roll out continues to vary across the EU
Image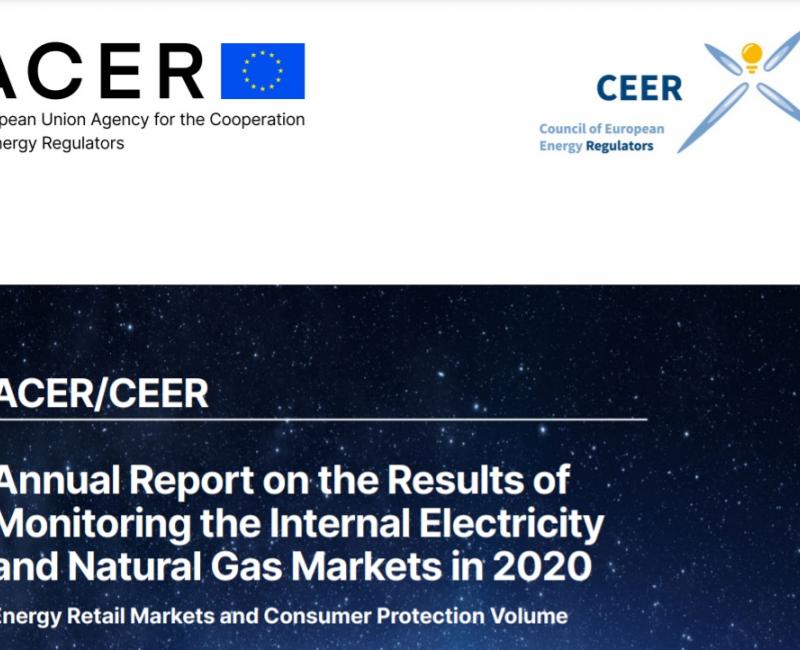 Energy Retail Markets Monitoring in 2020: Smart meter roll out continues to vary across the EU
The Energy Retail Market and Consumer Protection is the last volume published from the Market Monitoring Report
The EU Agency for the Cooperation of Energy Regulators (ACER) and the Council of European Energy Regulators (CEER) publish today the new edition of the Energy Retail and Consumer Protection Volume of the 2020 Market Monitoring Report (MMR) with the support of the Energy Community Secretariat. The volume focuses on retail market competition, retail prices, and consumers, including the importance of consumer engagement in the energy transition.
The Energy Retail Market and Consumer Protection is the last volume published from the MMR, which comprises two other volumes: the Electricity Wholesale Market and the Gas Wholesale Market.
Energy Retail markets monitoring in 2020: what is new?
Important price variations occurred in the course of 2020 and 2021
 First the economic decline of COVID-19 with plummeting gas prices and later the rebound following 2020 with a tight LNG supply caused considerable price variations. The unprecedented market conditions risked businesses and households' ability to pay their energy bills. The Volume focuses on 2020 and the COVID-19 related market conditions, while the recently published ACER note makes observations in relation to the high energy prices of the last two quarters of 2021.
Market concentration
Besides the limited improvements in this area, the majority of retail energy markets in the EU are highly concentrated, which can limit consumer choice to choose alternative suppliers. 
Retail prices differ
The prices consumers paid for their energy continue to be very different across the EU in 2020. Compared to 2009, when the first comparable research was carried out, average electricity household prices increased faster than inflation. This has corresponded with a significant increase in the penetration of renewable electricity generation within the EU, resulting in a lower dependence on imported fossil fuels for energy consumers within the EU.
Regulated prices still play a role
The existence of regulated prices in some Member States can limit the entry of new suppliers, reduce consumer choice, and form barriers to price formation.
Comparison tools for consumers are key
To be able to shop around for better prices and services, smart meters and reliable comparison tools are essential. Smart meters also enhance market information, but their roll out is not timely. Comparison tools are available to the majority of EU electricity and gas consumers. However, there still remains some consumers who do not have access to these tools. Only one comparison tool for electricity meets the requirements as outlined in Directive (EU) 2019/944 signalling room for improvement for EU energy consumers.
How did retail energy prices perform in 2020?
The report shows that average energy prices in 2020 decreased for households for both electricity and gas. Average industrial prices instead recorded a slight decrease in electricity and a historic low in gas.  
The analysis also shows that the difference between wholesale and retail prices widened again in 2020. Strong correlations between retail and wholesale energy prices are observed when wholesale energy prices increase. However, a weaker correlation is noted with regard to a fall in retail prices following a fall in wholesale energy prices. Such "sticky retail prices" when there are wholesale price declines can result in energy consumers paying higher prices than efficient markets would suggest for their energy consumption.
While it is not expected that retail prices will always decrease at the same rate as wholesale price reductions, empowering energy consumers may assist in placing downward pressure on suppliers to decrease retail prices. Such empowerment will become vital during the energy transition.
How can consumers be further engaged?
The Clean Energy for All Europeans package recognises the important role that European energy consumers will play in achieving decarbonisation goals. At present, consumer engagement in retail energy markets is limited in some EU countries due to the presence of regulated prices. As these countries move to market-based prices, the energy consumer will have a wider choice of retail suppliers.
The rate of consumers switching suppliers ranges from 1% to 20% across the EU. As regulated prices are phased out, consumer participation will need to increase. However, consumers need to have the right tools, allowing them to make informed decisions. Among them, smart meters providing consumers with real-time information on their energy consumption; and comparison tools, which help consumers find the best offer for their needs  and are still only available in 25 and 19 EU Member States for electricity and gas, respectively. 
Consumers can also become engaged by submitting complaints to their energy supplier. Such engagement can result in improvements in the service provided. The report notes that millions of complaints were filed by consumers to their suppliers (and distribution system operators, DSOs) in 2020, most often regarding invoicing issues to their suppliers and metering-related issues to their DSOs. 
 
Would you like to find out more?
Read the MMR Report – Energy Retail and Consumer Protection.