13.10.2021
Europe's high energy prices: ACER looks at the drivers, outlook and policy considerations
Image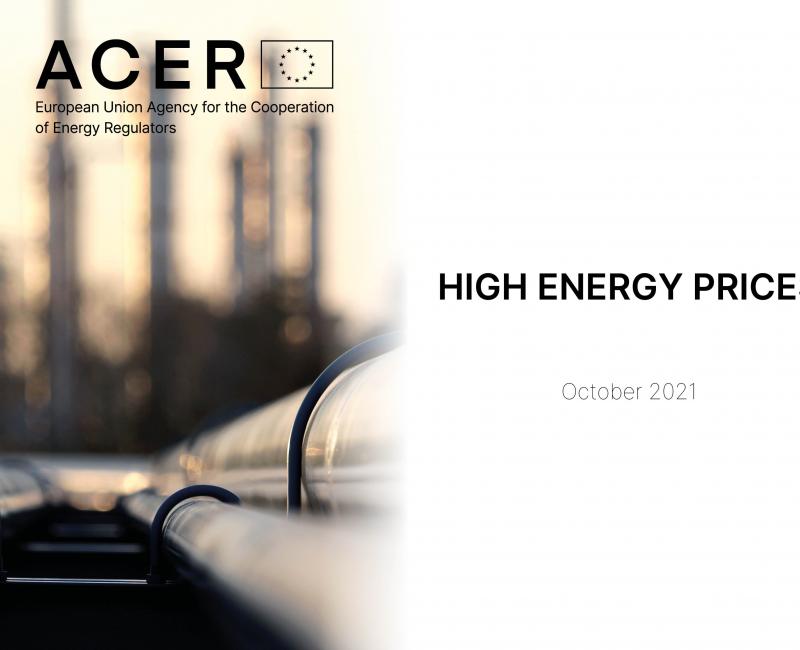 Europe's high energy prices: ACER looks at the drivers, outlook and policy considerations
Europe's high energy prices: a temporary shock or a permanent shift?
Energy commodity prices have reached unprecedented high levels across Europe. Gas prices in October 2021 are 400% more expensive than in April 2021. Power prices have increased by 200% (driven mainly by the increase in gas prices). Governments are interested in identifying the key drivers and in determining if it is a temporary shock or a permanent shift. The answers to these issues will help inform their policy response.
Today, the EU Agency for the Cooperation of Energy Regulators (ACER) publishes a note providing data and insights on the recent high energy prices in Europe. ACER's note on high energy prices:
identifies the drivers and the impact on price levels across Europe;

provides the dominant market outlook of how long it is likely to last;

looks at certain market behaviours; and

touches on some important policy considerations (both short term and longer term).
Why are energy prices so high and how long will it last?
While various factors have contributed to the high energy prices in Europe, the main driver is the surge in the price of natural gas, caused mainly by a tight global LNG market. Forward markets expect a significant drop in wholesale prices for gas and electricity in spring 2022. A key variable in the very near term is the upcoming winter and its implications for gas demand.
Policy considerations – short term and longer term
The European Commission's is preparing  a "toolbox" of measures that national governments could use to respond to price hikes without endangering the functioning of EU wholesale markets. This note by ACER touches on a few select policy considerations related to this response, namely:
disproportionate effects of high prices on vulnerable consumers and the possibility for Member States to mitigate this in the short term without unduly distorting fundamental market signals;

the functioning and rationale of the current EU electricity market design vis-à-vis the current high prices;

certain issues related to gas supply going forward such as possible joint purchasing of strategic gas reserves as well as possible obligations for gas storage; and

longer term transition trajectories and the link to holistic policy.
Today's energy price squeeze is a reminder of Europe's still high-dependency on imported fossil gas and the inherent volatility of global commodity markets. It is also a reminder that a well-designed energy transition pathway going forward will rely on holistic policy that targets demand just as much as supply, focusing on both the short-term and the long-term. As such, Europe's transition pathway will likely need to be a more "managed transition" in the years ahead with both government and regulatory monitoring playing a significant role.
See also the ACER Director's presentation on Europe's energy prices to Finance Ministers at the 4th October Eurogroup meeting.