7.6.2021
Register for ACER Webinar on the High-level Approach to Identify Alternative Bidding Zone Configurations for a more efficient energy market
Image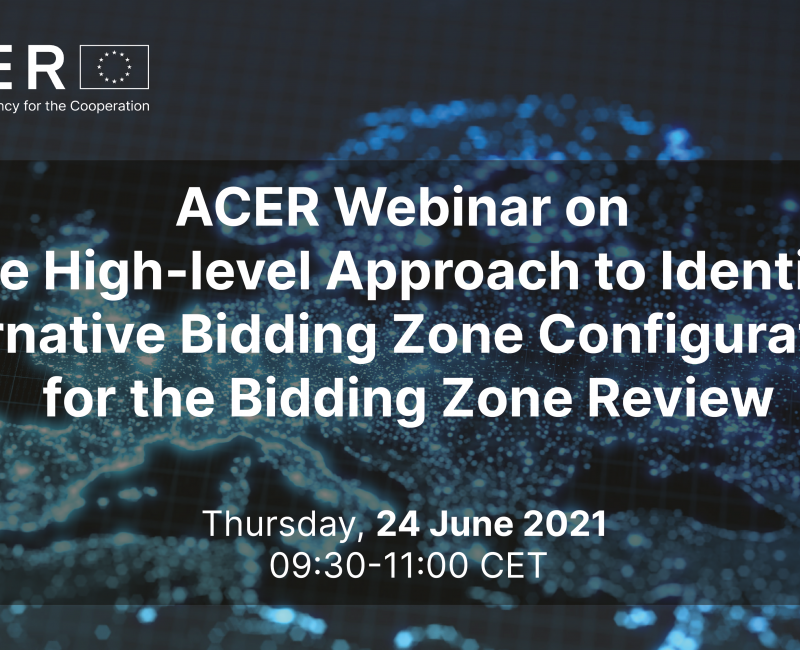 Register for ACER Webinar on the High-level Approach to Identify Alternative Bidding Zone Configurations for a more efficient energy market
The EU Agency for the Cooperation of Energy Regulators (ACER) opens registration today for an online webinar on 24 June 2021 to present the high-level approach that ACER intends to follow for the definition of alternative bidding zone configurations to be considered in the bidding zone review process, according to the EU Regulation on the Internal Market for Electricity.
Register by 22 June and access the agenda.​ 
What are the bidding zones?
Bidding zones, as the largest geographical areas within which market participants are able to exchange energy without capacity allocation, represent a cornerstone of market-based electricity trading and should therefore be defined in a manner to ensure efficient congestion management and overall market efficiency. In particular, bidding zone borders shall be based on long-term, structural congestions in the transmission network and the configuration of bidding zones shall be designed in such a way as to maximise economic efficiency and to maximise cross-zonal trading opportunities, while maintaining security of supply.
What can you learn in this webinar?
This webinar will present ACER's high-level approach for the definition of alternative bidding zone configurations as well as how clustering algorithms can be applied on nodal simulation results to support the identification of alternative bidding zone configurations.
A public consultation on relevant aspects of this high-level approach is planned to be launched shortly after this webinar takes place. ​