23.9.2014
Regulators' Bridge to 2025 energy proposals should guide the new Commission's energy priorities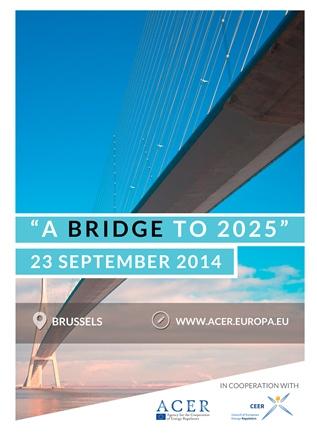 ​
Energy regulators today presented their "Bridge to 2025" Conclusions Paper to high level European Commission officials and stakeholders in Brussels. The regulators' Bridge to 2025 recommendations are based on a holistic analysis of Europe's energy sector and are particularly timely as the new Commission sets its EU energy priorities.   The
"Bridge to 2025" Conclusions Paper
, which is the result of extensive public consultation, identifies the trends foreseen in the ten-year period to 2025 and recommends a set of actions for regulators, Member States, the European Commission and energy actors (including consumers). Key amongst energy regulators' cross-cutting proposals are:  
to implement fully the Third Package framework;
to establish a roadmap aimed at competitive and innovative retail markets by 2025;
to promote flexible response, and its provision by generators and consumers on a non-discriminatory basis;
to ensure that the market for new service providers is not foreclosed by incumbents;
to develop the Gas Target Model to help manage the uncertainty about future gas demand;
to promote security of supply through a greater consistency of assessment and policy mechanisms;
to protect and empower consumers to participate actively in energy markets (principally through the development of the  CEER Consumer Vision); including establishing stakeholder panels of energy actors and consumer representative bodies;
to review and, where needed, improve the arrangements for regulatory oversight of the European Networks of Transmission System Operators (ENTSOs) and of other bodies (e.g. nominated electricity market operators (NEMOs); and
to further improve the efficiency of some aspects of the regulatory decision-making process at EU level, while maintaining those aspects which have proved to work effectively.
ACER Director, Alberto Pototschnig, called for "determined action by the EU Institutions and stakeholders alike to fully implement EU legislation, including the network codes and the gas and electricity target models, to establish and maintain liquid, competitive and integrated wholesale energy markets and to deliver the tangible benefits which EU energy consumers deserve."  
Empowering consumers and integrating renewables
  Lord Mogg, Chairman of ACER's Board of Regulators and President of CEER, stated:   "As Europe moves towards a low carbon society with a greater penetration of renewable sources, our energy systems need to become more flexible and smarter. Our recommendations seek to ensure that such flexibility is provided in the most efficient way and that consumers, who can contribute to this effort, continue to be properly protected in a changing environment. We also seek to remove any barrier to new service providers entering the market to help consumers manage their energy demand more efficiently and engage in the market more effectively. This requires collective action by all energy actors."   ACER's "Bridge to 2025" includes proposals to develop markets that truly benefit consumers such as the development of toolboxes of good practices to empower consumers, to regulate distribution system operators, a roadmap to enable consumers to switch within 24 hours, advice facilitating the phasing out of regulated prices, and the development of an appropriate framework for the evolution of the market to include demand-side response. The regulators' initiatives will be developed in the respective Work Programmes of ACER and CEER. Regulators will continue to work with all energy actors to meet future challenges.   Find out more in
ACER press release
.   Access other related documents
here
.