Online Workshop on the upcoming study on barriers to competitive electricity markets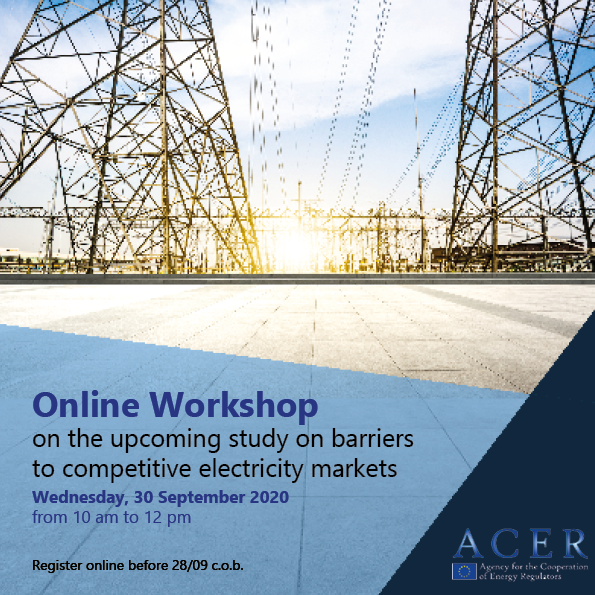 What is it about?
​ACER organises this online workshop to present an upcoming study aimed at identifying barriers to the development of competitive electricity prices and the entry and participation of new market players in the EU electricity wholesale markets.
The study - which will be carried out with the support of a consultant over the next six months- aims at enabling ACER to effectively fulfil its new monitoring responsibilities set in the Clean Energy Package. In particular, the study will develop indicators to be included in future editions of ACER's Annual Report on the Results of Monitoring the Internal Electricity and Natural Gas Markets consisting of three volumes focusing on the Electricity Wholesale Market, the Gas Wholesale Market, Retail Markets and Customer Protection.
In this workshop, stakeholders will get more information about ACER's proceedings related to the study, its scope, objectives, methodological approach and work plan. Stakeholders will be able to express their views on all aspects of the study.
In order to have the widest possible contributions, participation may be restricted to one person by organisation.
For logistical reasons, Deadline for registration is 28 September 2020 unless maximum capacity is reached before.
To ensure that we address your concerns relevant to the context of the study during the workshop, we invite you to send specific questions you may already want to raise to ewpmm[at]acer.europa.eu​
Background
ACER is legally required to identify and report any barriers to the completion of the internal markets for electricity and natural gas. In order to fulfil this requirement ACER produces an annual Market Monitoring Report.
The objective of the Market Monitoring Report is to assess the functioning of the Internal Energy Market and to show how energy markets can work more efficiently for the benefit of energy consumers in the European Union. The Market Monitoring Report is divided in three different volumes on the Electricity Wholesale Market, the Gas Wholesale Market, Retail Markets and Customer Protection.​